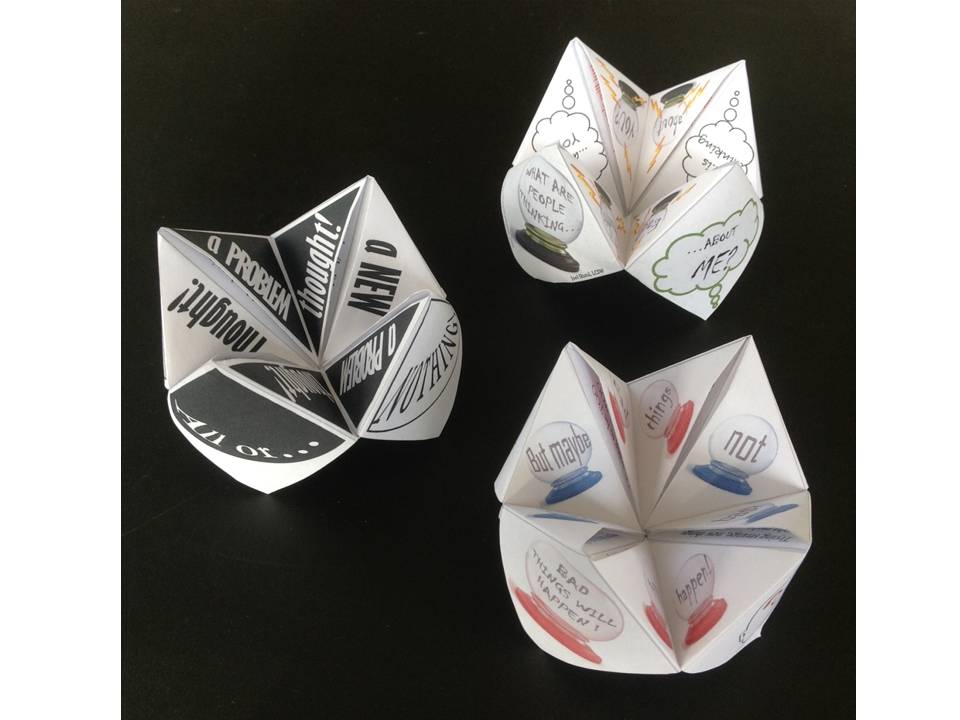 To download the PDF files for these three paper fortune tellers, click on the

RED

link right below here:
Helping children to work on upsetting emotions using a cognitive behavioral therapy game activities
Many young people have persistent problems with anxiety, sadness, anger and other upsetting emotions.  To maintain engagement in counseling and psycho-education, we need to provide novel approaches and introduce some levity whenever possible.
[ On my website, I have also posted a number of

simpler

Paper Fortune Tellers to help with social communication and simple exploration of emotions.  To find these, go to:

http://bit.ly/1divqbX

 ]
Elsewhere on my website are  a great many  free  card games, worksheets, videos and  other activities for exploring and working on  emotional issues.  To find these, peruse the options in the Free Social Skills Downloads tab at the top of this page.
Some suggestions for introducing these  Fortune Tellers:
1.     Introduce some basics concerning the connection between automatic  negative thoughts and negative emotions.  I suggest you do this by viewing , with children, this very short video I made:
2.     Working in pairs, and taking turns, person number one says, "Spell your name."  For each letter, the child holding the Fortune Teller manipulates the device back and forth.
3.     Person number two is then shown the two options appearing on the inner triangles.  Person one says, "Pick which one you want."  You can see photos of this farther down on this page.
4.     Person one opens up the innermost petals, where four options appear.  He tells person two, "Pick A, B, C or D." Person one reads the option selected.  If the option read is a negative thought, person two has to tell how to deal with such thoughts.  If the option selected is a positive thought, person two must describe a time when he needed to use such a thought to solve a problem.
I really enjoyed creating these paper devices.  Don't be afraid to try folding them.  My PDF download includes a link to a YouTube video made by a young teenage girl on how to fold these things, and her directions are really clear.
My best wishes for your work with children,
Joel Shaul, LCSW