Conversation Social Skills Lessons for Children
with Asperger's Syndrome and other Autism Spectrum Disorders
$49.95
Many children with autism love trains. The Conversation Train provides social skills lessons for teaching autistic children how to keep conversation "on track."
The Conversation Train
tool kit from Autism Teaching Strategies includes:
Laminated train car pictures, depicting real train cars, that represent different elements of conversation — beginning, middle, end, "off track" and "on track."
The Conversation Train, a 50-page book full of real train pictures, for teaching children with Asperger's and other autism spectrum disorders the social skills of balanced conversation.
A CD containing beautiful Conversation Train lessons on PowerPoint, a printable Conversation Train wall display, and printable files that enable you to make multiple copies of the Conversation Train book.

Click on the image to enlarge.


For a closer look …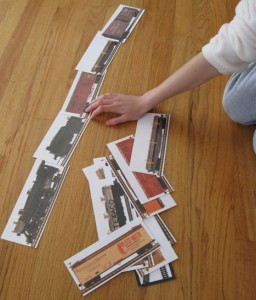 Use the ultra-durable train pictures, shown at left,
to illustrate stages of conversation during
role-play practice.
Click on image to enlarge.

Locomotive and coal tender: Greetings, "How are you?"
Train cars: One per conversation turn
Derailed car: Off-topic
Switch track: Good topic change
Caboose: Proper ending of conversation

Some sample images from 45-page Conversation Train Book, below. Click on an image to enlarge.

Designed for the visual learning styles of children on the autism spectrum, The Conversation Train Slides on PowerPoint provide social skills lessons about "on-track" conversations.
Click to enlarge the sample slides below.


The Conversation Train wall display images, shown below, may be printed printed out from the CD and posted in your classroom or office to reinforce learning.
Click on the image to enlarge, to see how each part of a train refers to a different element of conversation.