Using a fantasy world of dragons to build social skills in humans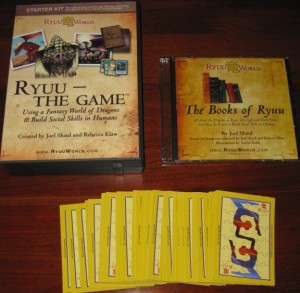 Ryuu – The Game® is a collection of teaching aids based on a fantasy world of dragons. Ryuu World activities teach social and emotional skills to children and teens with autism, Asperger Syndrome, and other autism spectrum disorders. Ryuu is a set of non-competitive and therapeutic games that teach communication skills by combining fantasy worlds, card collecting, and role play to make learning fun and meaningful.
Ryuu activities employ a Cognitive-Behavioral Therapy approach to teaching communication skills, which makes these products ideal for therapists, school teachers, and parents to use when working with children and teenagers.

RYUU TRADING CARDS represent six dragons and the Dark and Light forces. The dragons each evolve in four stages, becoming more socially skilled with every evolution. Challenging these dragons are the 17 Dark Forces – invisible villains who make us all socially inept. Helping the dragons are the 17 Light Forces – invisible heroes who help us all to be socially successful.

Click on the cards below to enlarge. These are five of the 62 cards in the Ryuu deck.
THE BOOKS OF RYUU CD presents the mythology of Ryuu in an interactive format designed to both fascinate and instruct. Browsing through the beautifully designed pages, you can learn about the dragons and the Forces of Ryuu. There is an interactive map; there are stories and poems about each of the dragons and the Forces, and clickable profiles of all the Ryuu World creatures and forces.
Ryuu World products were co-created by Joel Shaul, L.C.S.W. , and Rebecca Klaw, M.S., M.Ed.
To learn more and to purchase Ryuu socials skills products, visit The World of Ryuu.