Cognitive Behavioral Learning for Children with Asperger's Syndrome
and other Autism Spectrum Disorders
$45.95
The CBT Mind Traveler employs cognitive behavioral therapy strategies to help children and adolescents with autism spectrum disorders understand and fight the automatic negative thoughts that lead to upsetting feelings.
Using either the deck of 104 illustrated cards or the set of 260 illustrated PowerPoint slides, each depicting a wide range of challenging situations, the child with autism is guided to identify and fight the "poison thoughts" that underlie anger, anxiety, sadness and other troubling emotions.  The included Trainer's Guide shows you a variety of therapeutic games and activities employing the Mind Traveler materials.
For children with Asperger's Syndrome and other autism spectrum disorders, age 7 to 18.
The CBT Mind Traveler
tool kit from Autism Teaching Strategies includes:
CD with richly illustrated slide presentations in seven chapters.
104 CBT Mind Traveler Cards, in 5 "Poison Thought" categories, showing most of the same challenging scenarios as the slides.
CBT Poison Thought Wall Displays, which you print out from the CD,  serve as useful prompts and reminders during sessions.

Click on the image to enlarge.
For a closer look …

Here are four of the 260 slides in The CBT Mind Traveler lessons.
Click on any image at left to enlarge.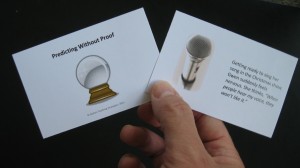 Here are two of the 104 CBT Mind Traveler Cards.
Click on the image to enlarge.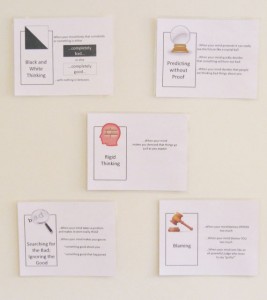 The CBT Mind Traveler wall displays
are effective prompts or reminders
for use in the classroom or office.
Click on the image to enlarge.