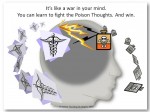 Cognitive-behavioral therapy and children with high functioning autism
I have posted an extensive amount of free counseling and teaching materials on CBT in the website.  The following post is to summarize them in one place and provide more convenient links to each of them.
To be connected with each free resource, click on the IMAGE.
8 [...]