This blog entry describes a social skills training method I developed for kids with autism called "People Points." I sell it as a curriculum kit on my website.  Here, I will provide enough basic information and downloads for you to give it a try on your own with your students/clients on the autism spectrum.
In the first four parts of this series, I described how to incorporate various visual elements (toy balance, magnets, etc) when doing teaching and psychotherapy for kids on the topic of social skills and relationships.  Young people with autism learn much better when meaningful and engaging visuals are built into the social skills lesson.  Here, I describe how you can employ another visual device, "People Points." Below you will find basic instructions for this social skills activity.  Way at the bottom, you will find the People Points Money that you can print out to make this social skills lesson more like a social skills game.  Print out the People Points Score Board as well and leave it hanging up in your classroom/office.
You can introduce it something like this:
"Other people are usually watching and listening to us.  The information they get with their eyes and ears goes into their minds.  Some of the information about you stays there a long time.  People talk with other people.  The information they have in their minds, about you–both good stuff and bad stuff–can get passed on to the minds of others in this way."
[Now give a a postive example of something the child has done or said that may have been viewed positively in the minds of other people]  "This is a way that you placed a good memory–all about you–into another person's mind."
"When you put a good memory about yourself into another person's mind, we will call that a People Point.  It's something like scoring a point each time you do something cool, or nice, or when you behave well, or when you deal with something hard without getting too upset."
"Other people also remember when we do things that they do NOT like.  Like when you do something mean, or rude, or out of control.  Or, if you don't pay attention when another person is upset or having a hard time.  When that happens, we will call that earning Negative People Points." [Now, encourage the child to recall a recent time when they earned Negative People Points.]
In the kit I sell, I developed this autism social skills concept into a workbook and curriculum on showing concern, encouraging others, taking care of appearance and dealing with disappointment.  I think you should be able to get pretty far, however, using the following few ideas and the downloadable image included in this blog.
Activity One:  People Points Money activity. Click on the People Points Money image, copy to your desktop, and print out a  lot of it. Laminating it helps; you might use it often.  Tell the kids (who have been already briefed about People Points):  "We are going to play the People Points Money Game.  To score in this game, you have to really think about other people's minds and really be honest about all the things you do and say around other people." This activity is extremely simple.  You ask the child/children to reflect upon various aspects of their behavior in terms of how it affects others.  When they admit to a negative behavior, they are given a Negative People Point money. To encourage disclosure, it helps to say, "Remember, all people who are honest are good and wise" and then clap for them when they are given their Negative People Point money.  Give out Positive People Point money each time they are able to describe something they do and say that leaves a good impression on others.
Activity Two:  People Points Time Travel. This is done much like Activity One, except you say, "We are going to travel one month into the future now, to the time when you have started to really work hard on the problem that was making you earn too many Negative People Points." Then, ask the child/children to describe as specifically as possible what things they will do and say to increase their People Points score.  Hand out the Positive People Points money accordingly.
I think that the kids on the autism spectrum you work with will really enjoy this social skills activity.
Joel Shaul, LCSW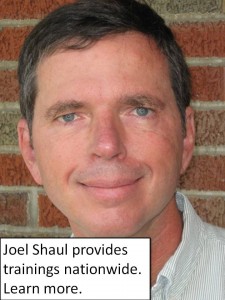 To check out the People Points Project Kit I sell on the website, click here.