You can actually download these right here in this blog post: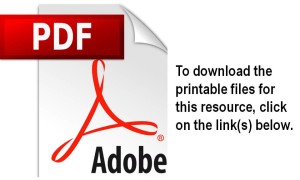 Children with Asperger's and other autism spectrum disorders usually have difficulty expressing themselves effectively through nonverbal communication.  When we correct them and remind them verbally, they sometimes tune us out; many are visual learners.
In your work with children on the autism spectrum, it is very useful to keep around a set of nonverbal communication prompts
Click on them and print them out from the next blog entry:
*Eye (for eye contact or at least looking towards the other person
*Ruler (for distance from the other person–too close or too far)
*Face (using the appropriate facial expression)
*Hand (using hand strategically in communication; avoiding distracting hand motions)
*Ear (technically not "nonverbal communication" but useful as a prompt for "listen")
The quickest way for you to learn how to use these prompts is for you to watch this

very short Youtube video

. 
When you print out these visual prompts, I strongly advise you to laminate them, as children will want to handle them and they will get beat up.
Wishing you well in your work in social skills with children on the autism spectrum,
Joel Shaul, LCSW