Here are a number of my free resources to help children on the autism spectrum with various elements of conversation.  This post is to facilitate access to them.
To link to the resource, CLICK ON THE
PICTURE

.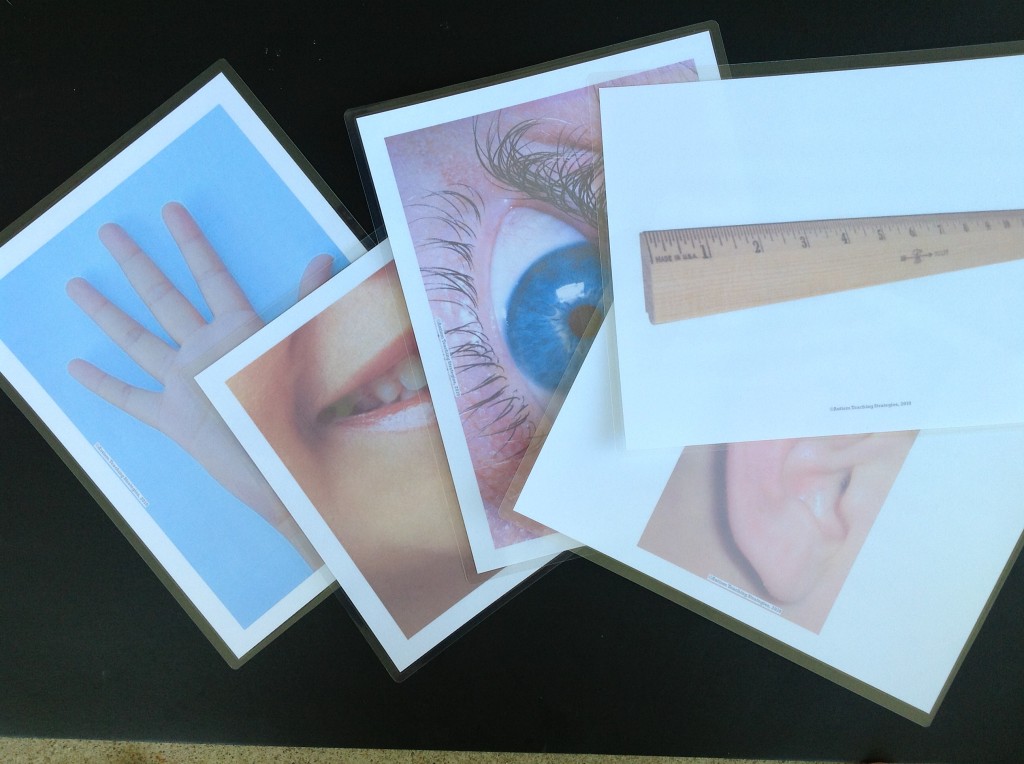 Nonverbal communication prompts for children with autism
Use these in combination with a variety of conversation practice activities.  There is also a short YouTube video to explain.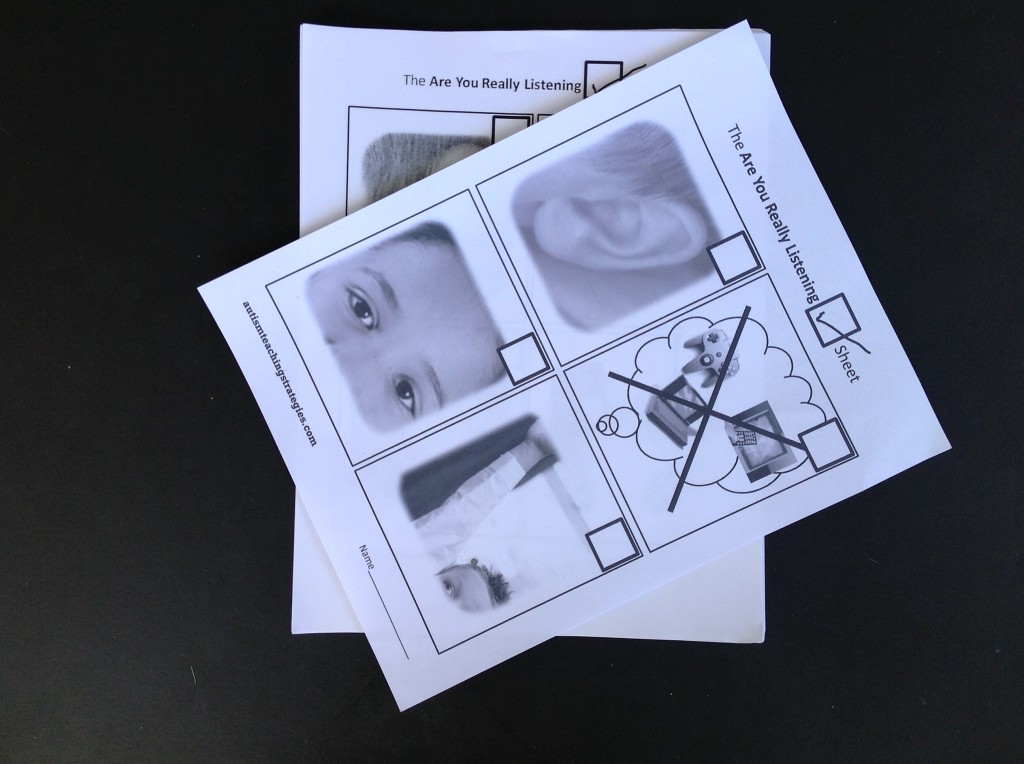 Are You Listening Sheets
There are various ways to use these.  If you are working with a small group, you can post one on the wall for each child, then add check marks for desired performance as you proceed.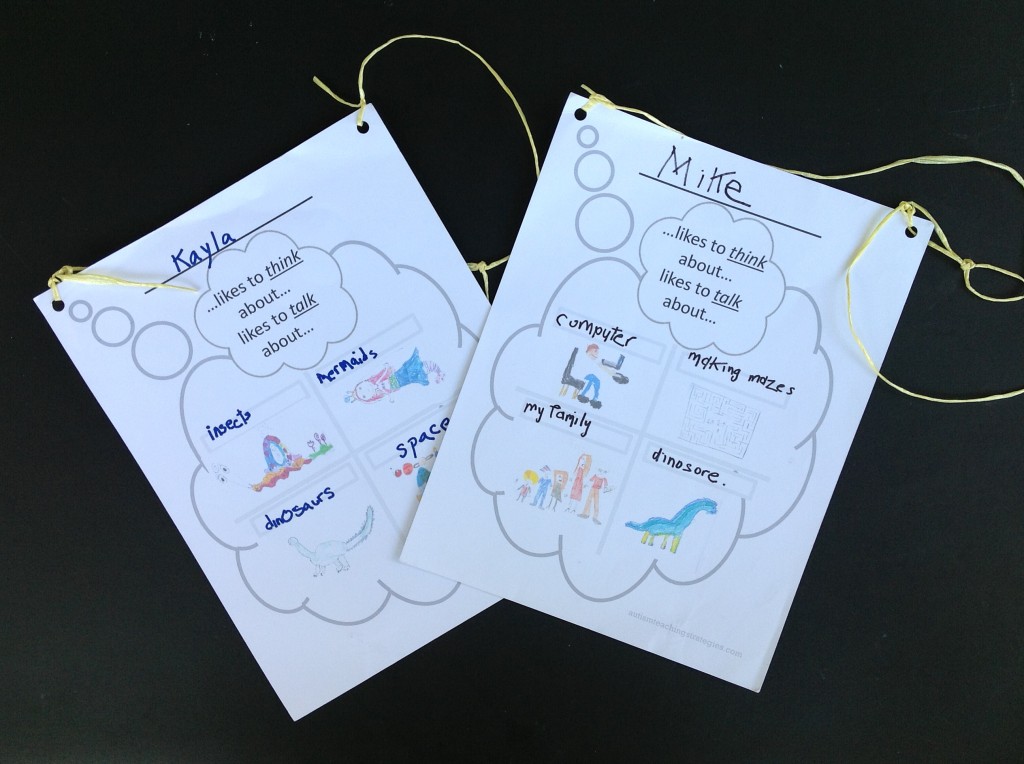 All About Me Signs
These are designed to help kids with ASD to focus on the interests of the conversation partner. It works best if they actually wear them – this keeps them from looking at their own sign.
Green Zone Sheet

This can be used with all ages.  Non-readers can draw little pictures. Two children fill out the sheet simultaneously. The free kit includes several other Green Zone visuals and a link to an explanatory YouTube video as well as the Green Zone kits which I sell. The sample shown was given to me by an attendee at one of my workshops.

Question, Comment, Compliment Sheet

This sheet can be used in combination with the Green Zone Sheet as well as most other resources in this post. This sheet is available in the Green Zone post.

Talk to Family Check-off Sheets

These simple worksheets are designed to help children with autism to acknowledge the interests of conversation partners within their families.  The worksheets can easily be modified to provide visuals to support conversation activities in classrooms.

Chain Game

This activity, from Relationship Development Interventions, teaches back-and-forth conversation turns and topic coherence.  You lay out the chain pieces in sequence while two children are talking. Abrupt departure from the shared topic triggers the broken chain.

Builder Game

This activity, also from Relationship Development Interventions, essentially duplicates the Chain Game but with a different set of visuals.  There is a YouTube video to demonstrate this and the previous activity.

The Conversation Box

This resource, derived from ideas in Relationship Development Interventions, is based on the premise that there are eight valid categories of reciprocal conversation.  The eight large prompts explain each category.  The eight small cards are placed on a box, which children pull out randomly and use as conversation prompts in role play practice.

Pie Chart Visuals

These simple visuals are very useful to help kids on the autism spectrum who speak too much in groups / class and for others who say too little.

Compliment Maker Wall Display / Visual Aid

This set of panels, a sample from the People Points kit I sell, helps children with ASD to create compliment by matching word phrases with pictures.

Control-o-meters for formality, volume, personal space

These simple meters have a variety of social skills applications and kids on the autism spectrum seem to really like them. Shown below are meters for volume and personal space.

Emotion Cards

This kit contains 44 Emotion Word Cards and 48 Question Cards.  The cards can be used in combination to carry out a variety of social / emotional skills activities, from fairly easy to fairly advanced.

Paper "Fortune Tellers"

There are nine in all, in two separate downloads.  Pairs of children use them to facilitate discussion on topics of interest and emotions.  There is another one to promote the skills of giving compliments and another one to review self-help options in response to teasing.

How Interesting Is It Kit

This set of materials includes the rating sheet shown above, a set of 90 "How Interesting Is It" questions, and a set of picture worksheets.

Green Zone Picture Card Conversation Activity

This social skills game is really fun and helpful for children with ASD's who are struggling to find common ground with peers.

Fix The Problem Game

The adult selects among 40 cards and reads first person accounts of each character.  The players receive special play money for "fixing the problems," which are varied and include social communication, relationship and emotional regulation issues.

The Conversation Picture Practice Game

This kit includes a nice, animated PowerPoint featuring about 100 photos of people in diverse situations to provide conversation starter practice.  Children take turns in thinking of comments and questions to direct towards all of these people.  For computer, projector, tablet or print out on paper.

                  *        *        *

I enjoyed developing these resources and I hope you find them useful.  They are "free," but I would be very grateful if you could "pay me back" by emailing me to: 1.  tell me how you used them, and 2. Photos showing how you used them.

joelshaul (at) gmail.com

Joel Shaul, LCSW